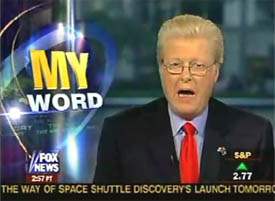 Although I consider Fox News, and other cable news channels, to be more "newstainment" than actual "news" they do at times provide excellent content.
I'm not a big fan of John Gibson, but he recently expressed his opinion about the controversy involving the purchase of six ports by the United Arab Emirates and he actually made sense. Although I have not yet made up my mind about this story, I have to admit that Gibson's
article
expresses my still undecided point of view.
Also, the
Christian Science Monitor
(A world reknown newspaper) reported on the issue citing a fact from the
9/11 Commission Report
that two of the hijackers were from the UAE and that, "
The vast majority of the money funding the Sept. 11 attacks flowed through the UAE."

Also, to me, this issue seems to be bringing out the best in our government. It is a great example of the need and use of checks and balances and that the U.S. presidency cannot overlook the power of Congress wherein rests the power of the people.